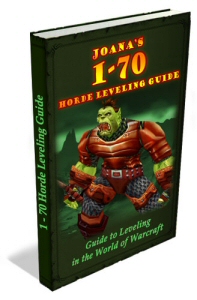 Hey

I spend a lot of time on the internet and computer games in general. One of the best games out there is World of Warcraft. As a keen player of the horde, this eBook seemed the best place to start on my blog.

World of Warcraft Horde Leveling Guide

This guide, as the title may imply, is about leveling your Horde character to the level 70 as quick as possible, and it offers some great tips. The blurb in the book says you can do it in 20 hours, which although realistic a little more time could be spent. Unless you are a hardcore gamer.

The eBook entails showing you the Outland Guide with demos, reference guides to all Horde races, including the Blood Elves.

Its a must buy if you need those quick tips at improving while playing Horde of a WOW server.

For only $37 you can't go wrong. If you would like to purchase this eBook you can check it out here.

Update: You can find an update to this review here.